I started playing with windows 8 just today and so far, so good !! I really like the metro experience so far and would like to let the regular user this new interface though friendly is going to be kind of hard to catch up with.
first of all, I installed the consumer preview with apps 64 bits version on a VMWare virtual machine using 4 gigs of ram and 8 processors. if you are interested in such a test please follow these instructions http://www.afterdawn.com/news/article.cfm/2011/09/15/install_windows_8_dev_preview_in_vmware_workstation
These are the used settings: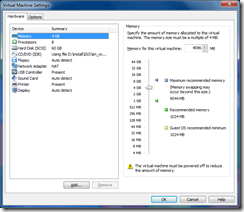 Metro look & feel looks great and it's pretty intuitive too, I decided to log in using my windows live id and everything went really smooth from then on, I even set up my exchange account with no hazzle.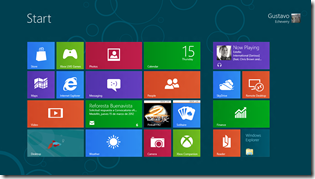 One of the first things I struggled with was setting up the keyboard using United Stated International so I could write latin characters (ó, ñ or similar), being a window user for so long my first approach was to hit the windows key + R and type control panel, I could get it doe using this approach but I feel kind of dirty doing it that way and think there should be another way to get these tasks done.
To be fair I have just focus on the usability-metro-style-UI but hadn't pay any attention to how to navigate so this was my next step. First I notice there are three ways to move around this new cool OS.
1) our friend the good old ALT + TAB will loop thru each open application you have at the moment

2) Left dynamic menu: every time you move your mouse to the left upper window the previous application youy were using will show there, if you move your mouse down alongside the left border all the opened apps will be listed there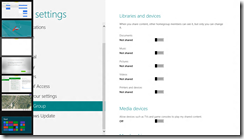 3) utility Menu, in a similar way there's a popup menu at the right side of the screen which shows several options including a settings one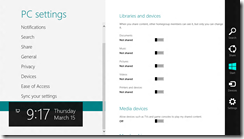 if the settings option is selected the following options are shown:
if you select general, you can see the option which takes you up the control panel directly and from there the input change can be performed to use united states international.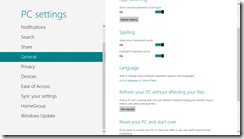 General
in general terms navigation is done using the live tiles lay out on the metro interface but one option we all have is to use the Windows key to move around easily, what this key does is to take us to the main screen always. so, if you tap the desktop tile and then proceed to use the Windows key it will take you to the main screen.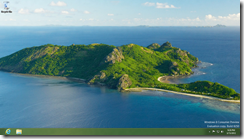 tap the Windows Key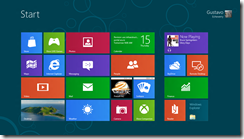 Search
using the right menu you may click the search option and access the search interface, type anything you want to search for and proceed from there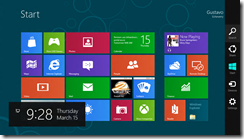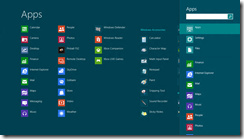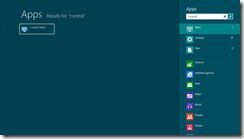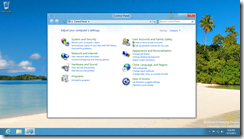 Closing an App
There are several ways on how to close an Application on windows 8
1) ALT + F4 still works, if you are positioned on the application just hit this keyboard combo and the app will close immediately
2) drag & drop. this is actually a new way on how to close apps, if you move your mouse to the top of the application, you'll notice the mouse cursor changes its icon and you are able to drag the application frame from there, take the frame and drag it to the bottom of the screen, this will close the application as well and yhe interface will return to the main screen.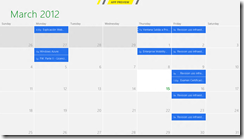 3) drag & drop from the application menu on the left, please be aware this does not work while on the main screen. this works in a very similar way as the prior option and the only difference is the way to get the application from.
Docking an App
windows 8 has this notion of docking applications to the right or left portion of the screen, this somehow has proven to be cumbersome and kind of hard to undock an already docked app.
in order to test, please click the weather app: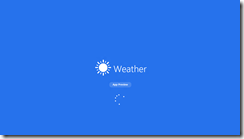 as you can see the Panorama control was used to develop this app and works nicely, you can scroll to the right using the bas at the bottom or using your middle-click-mouse-button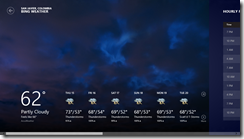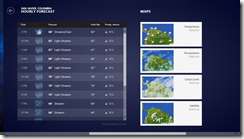 if the app is grabbed and docked to the left this is how it will look:'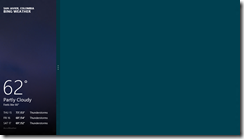 as I mentioned before one of the thing I struggled with was getting the app back to full screen mode, may be I am dumb and don't get it that fast but the way to transition the app back to its state is to click drag the separator for about 2 inches, this control strikes me as odd and hardly intuitive.
Internet Explorer
the new IE it's looking sharp, the OS feels in general as if you were using a cool table or phone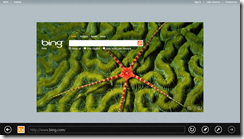 These are my first impressions on the new operative system, in conclusion I have to say is a cool new way of looking at a system but I'd really like to play around some more with it and see how it will work as a development machine, I just don't see myself using a lot of tools and old style windows there (event viewer, SQL server management studio, visual studio, etc) on a regular basis, let's say you are developing a basic application and need to use several tools, I just don't see Microsoft creating new versions for SQL Server management studio or similar, are we going to have special OS for developers? and just use windows 8 as a testing and everyday use machine?
all there is yet to be seen.