1. Package restore is disabled by default. To give consent, open the Visual Studio Options dialog, click on Package Manager node and check 'Allow NuGet to download missing packages during build.' You can also give consent by setting the environment variable 'EnableNuGetPackageRestore' to 'true'. MyTodo.WebUx.
Este error para algunos es fácil solucionarlo pero para otros es un poco más complicado, estos son los pasos:
a. En Visual Studio 2012 TOOLS->Library Package Manager-> Package Manager Console.

b. Luego hacer clic en Restore

2. System.Runtime.InteropServices.SEHException: External component has thrown an exception.
Ocurre cuando el proyecto Windows Azure, no es el proyecto que inicialmente se ejecuta. Solución:
Clic derecho en el proyecto y seleccionar Set As Start Up Project.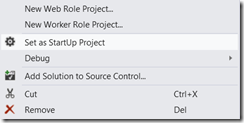 3.  The remote server returned an error: (403) Forbidden.
Al momento de enviar notificaciones ese es el mensaje de estado de conexión devuelto, aparentemente es un tema de autorización pero la excepción lanzada es esta Channel URL incompatible with caller app. Para este caso se tiene una aplicación Windows 8 en Javascript y un web site en azure encargado de enviar las notificaciones. Solución:
El  nombre de la aplicación es diferente al nombre del paquete del archivo package.appxmanifest.

Es decir, este mismo nombre  es el id de la aplicación que se le envía en el objeto cuando se registra el canal para recibir notificaciones.

Luego ir al web site e intentar enviar una notificación, el mensaje debe ser Status Code OK – 200: Notification was accepted by WNS.