Después de haber instalado BizTalk 2010 Beta e instalado ESB Toolkit 2.1 Beta fui a realizar la importación en BizTalk del archivo  Microsoft.Practices.ESB.CORE64.msi, es así como lo he realizado desde que el Toolkit era ESB Guidance CTP 2 versión 1. Me sale el siguiente error: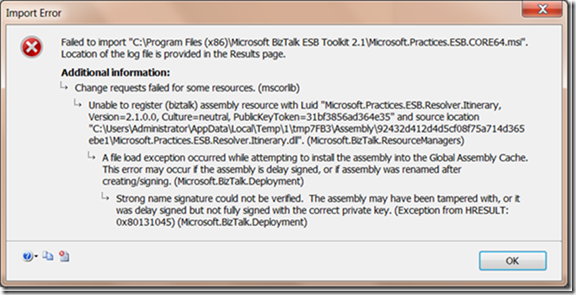 ===================================
Unable to register (biztalk) assembly resource with Luid "Microsoft.Practices.ESB.Resolver.Itinerary, Version=2.1.0.0, Culture=neutral, PublicKeyToken=31bf3856ad364e35" and source location "C:\Users\Administrator\AppData\Local\Temp\1\tmpF58A\Assembly\92432d412d4d5cf08f75a714d365ebe1\Microsoft.Practices.ESB.Resolver.Itinerary.dll". (Microsoft.BizTalk.ResourceManagers)
===================================
Es una pena que no esté funcionando justo el MSI que necesito para mis pruebas, aquí hay un blog que encontré pero no han solucionado nada, falta es esperar, estare pendiente esperando que el grupo de BizTalk realice la respectiva actualización.